Danny Gokey Launches Fall 'Jesus People' Tour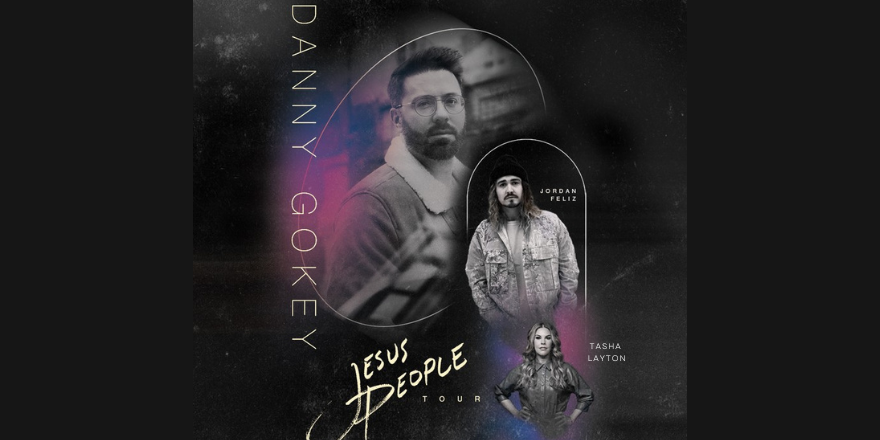 Three-time GRAMMY® nominee and American Idol alum Danny Gokey will kick off his 27-city "Jesus People" Tour tour on September 22 in Vienna, VA, and will wrap on November 6 in Tampa (Plant City), FL. Special guests on the schedule include Jordan Feliz and Tasha Layton for 24 of those dates, and special guests Unspoken and Dan Bremnes for the remaining 3 tour dates.
"I can't wait to get out on the road this Fall for the 'Jesus People Tour'." Danny Gokey shares. "It's gonna be an amazing night with my incredibly talented tour mates, Jordan Feliz ("Jesus Is Coming Back") and Tasha Layton ("Look What You've Done") joining me! Their music and ministry is a true representation of Jesus People walking out who He's called us to be, salt and light in the world."
"Danny and I have always talked about doing a tour together, and I am so pumped it's happening this fall," shares Jordan Feliz. "We are so expectant to see how the Lord uses this tour to bring joy and hope to so many people. I am honored to be part of the tour."
Tasha Layton adds, "I'm so excited to be heading out on tour with my friends Danny Gokey and Jordan Feliz! I love their music, but I adore their heart for people even more. Times are difficult right now for so many and my prayer is that this tour offers us a chance to gather and turn our eyes toward the One who comforts, heals, and restores."
"Jesus People" TOUR DATES
*with Special Guests Unspoken & Dan Bremnes
9/22/2022 | Vienna, VA*
9/23/2022 | Lutherville-Timonium, MD*
9/24/2022 | Salisbury, MD*
9/29/2022 | Dayton, OH
9/30/2022 | Scranton, PA
10/1/2022 | North Attleboro, MA
10/2/2022 | Burlington, NJ
10/6/2022 | Savannah, GA
10/7/2022 | Durham, NC
10/8/2022 | Meadowbrook, WV
10/9/2022 | Camp Hill, PA
10/13/2022 | Westerville (Columbus), OH
10/14/2022 | Michigan City, IN
10/15/2022 | Oshkosh, WI
10/16/2022 | Grand Rapids (Hudsonville), MI
10/20/2022 | St. Louis, MO
10/21/2022 | New Albany, IN
10/22/2022 | Quincy, IL
10/23/2022 | Fort Smith (Van Buren), AR
10/27/2022 | Aiken, SC
10/28/2022 | Myrtle Beach, SC
10/29/2022 | Rock Hill (Charlotte), SC
10/30/2022 | New Bern, NC
11/3/2022 | Meridian, MS
11/4/2022 | Macon, GA
11/5/2022 | Sarasota, FL
11/6/2022 | Tampa (Plant City), FL