Living Free from the Fear of Death - The Crosswalk Devotional - September 16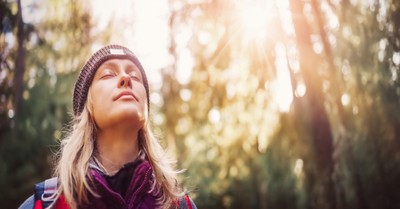 By Lynette Kittle, Crosswalk.com


Living Free from the Fear of Death
By Lynette Kittle
"For to me, to live is Christ and to die is gain"--Philippians 1:21
The world has been gripped by the fear of death, so much so that many believers have gotten caught up in it, isolating themselves from fellow believers and even close family members. Yet, 2 Timothy 1:7 explains, "For the Spirit God gave us does not make us timid, but gives us power, love and self-discipline." Sadly, many have embraced the imposed restrictions and guidelines, incorporating them into their beliefs and way of life. Instead of going out into the world to preach the gospel, many have been paralyzed by fear, preventing them from reaching out to a lost world.
Now Is the Time
But rather than hiding away, now is the time for the Church to shine, to walk in the confidence of the truth of God's Word, that the fear of death is no longer a ruler in the life of believers. The Church has been given the opportunity to share the life Christ gives us with a world being held hostage by the terror of dying. Although sadly, people are passing away, the truth is since sin entered the world, people have been dying every day from all kinds of sicknesses, diseases, conditions, accidents, natural disasters, and violence.
As a hospice chaplain, my husband works daily with those who are passing from this life because death has been present in our world since the fall of mankind. So, although nothing new, it no longer has the power to be victorious in the lives of believers in Jesus Christ.
2 Timothy 1:10, explains, "But it has now been revealed through the appearing of our Savior, Christ Jesus, who has destroyed death and has brought life and immortality to light through the Gospel."
As well, Revelation 12:11 reveals, being unafraid of death defeats the enemy and brings victory into our lives. "They triumphed over him by the blood of the Lamb and by the word of their testimony; they did not love their lives so much as to shrink from death."
Crossing Over
Although no one wants to suffer or die, being afraid to the point of living in fear is to live in unbelief of what Jesus has promised us. Although death appears to take our life from us, as believers, we are assured it cannot touch the everlasting life God gives us. "Very truly I tell you, whoever obeys My word will never see death" (John 8:51). As Christians, we will pass from life to life. "Very truly I tell you, whoever hears my word and believes Him who sent Me has eternal life and will not be judged but has crossed over from death to life" (John 5:24).
At the cross and through the His resurrection, Jesus swallowed up death forever, and we now have the assurance that we will pass from life to life, as "Jesus said to her, 'I am the resurrection and the life. The one who believes in Me will live, even though they die'" (John 11:25).
Living Fear Free
Because we believe God's Word as truth, rather than living fearfully behind closed doors and seeing other people as life-threatening, we as Christians have a calling to share the new and everlasting life God has given us, a life free from the fear of death. Even though believers in Jesus Christ do not need to fear death, there is a world of lost people, individuals who don't know God. Because they have not received the gift of Salvation through Jesus Christ, their fear of dying is very valid.
As Christians, while we have nothing to fear and everything to gain in death, non-Christians have everything to lose, including their eternal soul. Unlike most people believe, God is not sending people to eternal death, but sadly, by rejecting Jesus and His gift of eternal life, they are choosing it for themselves. When those who reject Jesus Christ die in their spiritually dead condition, they pass from physical death to eternal death.
As John 3:36 explains, "Whoever believes in the Son has eternal life, but whoever rejects the Son will not see life, for God's wrath remains on them."
Intersecting Faith and Life:
Because Christians have no need to fear death, we have the opportunity to share with family, friends, neighbors, co-workers, and even strangers how they can live fear free, too, and pass from life to life.
Further Reading:
To Free Us From the Fear of Death
Photo credit: ©Getty Images/LeManna
Lynette Kittle is married with four daughters. She enjoys writing about faith, marriage, parenting, relationships, and life. Her writing has been published by Focus on the Family, Decision, Today's Christian Woman, kirkcameron.com, Ungrind.org, StartMarriageRight.com, and more. She has a M.A. in Communication from Regent University and serves as associate producer for Soul Check TV.

Check out fantastic resources on Faith, Family, and Fun at Crosswalk.com!